A New Solution to the Senior Care Challenge
How to Shield Yourself and Your Family
For people who are age 62 and older, a Reverse Mortgage Standby Line of Credit can be used to create a Senior Care funding strategy.
This smart retirement funding tool leverages the power of an important financial asset—home equity—to help older clients receive the care they need, while they continue to live in their own home.
In-home care services can reduce the need for expensive nursing homes, and improve quality of care.
Services can gradually be ramped up as needed—from help with household chores, to 24-hour nursing care.
A Reverse Mortgage Standby Line of Credit can be set up in advance—before care is needed—so funding is at-the-ready.
Unlike a traditional home equity line of credit (HELOC), the unused portion of the reverse mortgage line of credit grows over time, allowing access to more funds as the borrower ages. And the line cannot be reduced or revoked by the lender, as long as the terms of the loan are met*—ensuring the funds will be there when needed.
There are no monthly mortgage payments for as long as they live in their home.* (The homeowners remain responsible for keeping current with property taxes, required insurance and home maintenance.)
Proceeds are tax-free.**
* The borrower must meet all loan obligations, including living in the property as the principal residence and paying property charges, including property taxes, fees, hazard insurance. The borrower must maintain the home. If the homeowner does not meet these loan obligations, then the loan will need to be repaid.
** Not tax advice. Consult a tax professional.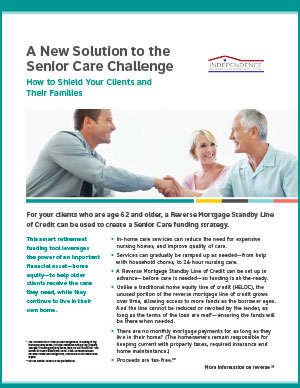 Click here to download the brochure explaining how to stay in your home as you age.
Questions? Contact us now!